The transparent PE Gloves are tensile and durable. It's safe for food contact and some low risk cooperation. Ideal and economical choice for hand protection.
Widely used for Food Processing, Fast Food, Cafeteria, Painting, Medical, Cleanroom, Laboratory and Hygiene industries.
Color: Transparent (Clear)
Size: M, L
Material: High Density Polyethylene Resin (HDPE)
Thickness: 6.5 micron or above
Embossed surface for easy grip
Ambidextrous
Waterproof, preventing ache, alkaline, oil, bacilli
Packing: 100 pcs/bag, 100 bags/carton
Technical Details & Additional Information
| | M | L |
| --- | --- | --- |
| Length | 24cm | 25cm |
| Width | 28.5cm | 30cm |
| Code | Size | Specification | Packing |
| --- | --- | --- | --- |
| HDG01M | Medium | Transparent, disposable, ambidextrous, embossed surface | 100 pieces/polybag, 100 bags/carton box (100x100) |
| HDG01L | Large | Transparent, disposable, ambidextrous, embossed surface | 100 pieces/polybag, 100 bags/carton box (100x100) |
  Other Packing way:
  500 pieces/box, 20 boxes/carton box   500×20
  100 pieces/flat box, 10 boxes/inner carton, 10 inner cartons/carton box  100x10x10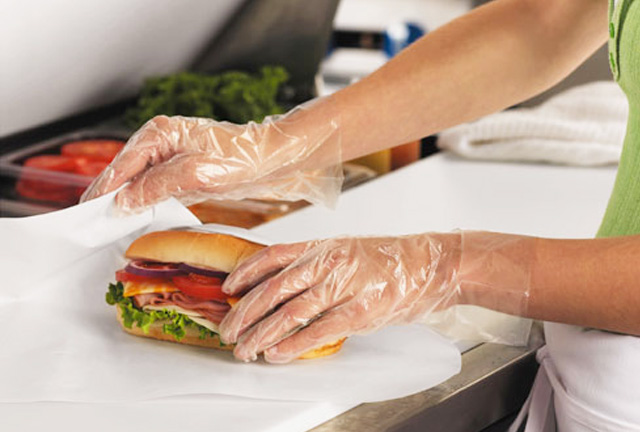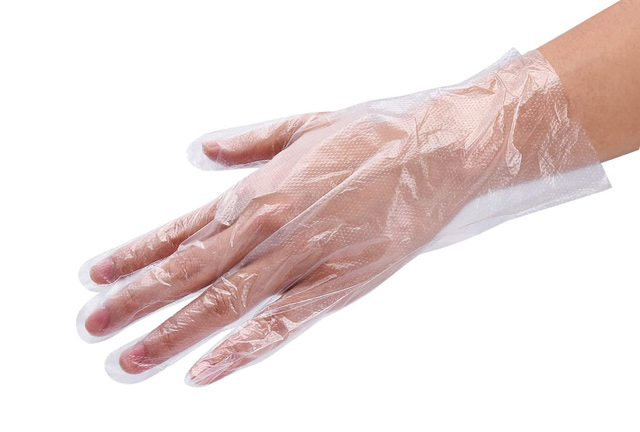 Polyethylene is also one of the most common and cheaper plastics. Often identified with the initials PE, it is a plastic with excellent chemical stability and therefore often used as an insulator and produced for films which are in contact with food (bags and foils). In the case of disposable gloves production is made by cutting and heat-sealing the film.
High Density Polyethylene (HDPE) is stiffer and harder than low density Polyethylene and is used for gloves that require the lowest costs (see the use at petrol stations or department stores). Low density Polyethylene (LDPE – Low Density PE) is a more flexible material, less rigid and therefore used for gloves which require a greater sensitivity and softer welds as for example in the medical field.
– For Food industry
The gloves can protect people's hands and keep people's foods sanitary in deli, bakery, cafeteria, cafe, or other food service operation. These gloves are made of light weight, clear plastic that's similar to the plastic in take-out bags. Polyethylene gloves are light weight for extra comfort, they are best for light-duty prep tasks like slicing deli meat, sandwich, tossing salad greens, or transferring food from its pan into a steam table. People can throw away these gloves in between prep tasks to prevent cross-contamination and pull a new pair out of the box for easy sanitation.
– For working time
When working in the chemical plants, some chemical raw materials opponents have a strong corrosive, now have a disposable PE gloves the problem of touching the chemical material directly can be easily solved.
– For the medical field
Disposable PE gloves also has the role of anti bacteria. In the medical field, disposable PE gloves isolation effect, can effectively prevent the bacteria on the human body, so disposable PE gloves in the field of medical application is also relatively early. For example, in the test, also very important.
– For household cleaning
Some women love clean, but when cleaning, it is easy to get your hands dirty, greasy cleaning is not good, but for a long time will soak hands dirty, so disposable PE gloves come in handy.
– For baber shop
In some of the barber shop, we often see the barber in the work before the general will wear disposable PE gloves, especially in the hair, such as when the hair dye will be stained with dirty hands, and also very difficult to wash. Disposable PE gloves can solve this big problem.
DISMAC is a trusted disposable glove and clothing manufacturer who has a high reputation among Chinese export companies. Our reputation comes from providing Clean and safe products to worldwide customers in different industries to help them relieve customer complaint and achieve success.
Trustworthy Disposable Protective Products Supplier
Committed to provide quality disposable protective products that meet all your needs.